April 20th, 2014 by JasonStotts
by Jason Stotts
According to christian mythology, today is the day in which the son of their imaginary god  rose up from the grave as a zombie, mounted his giant zombie rabbit that shit colored eggs, and rode around eating brains.  At least, I think that's what happened, I'm fuzzy on my christian mythology.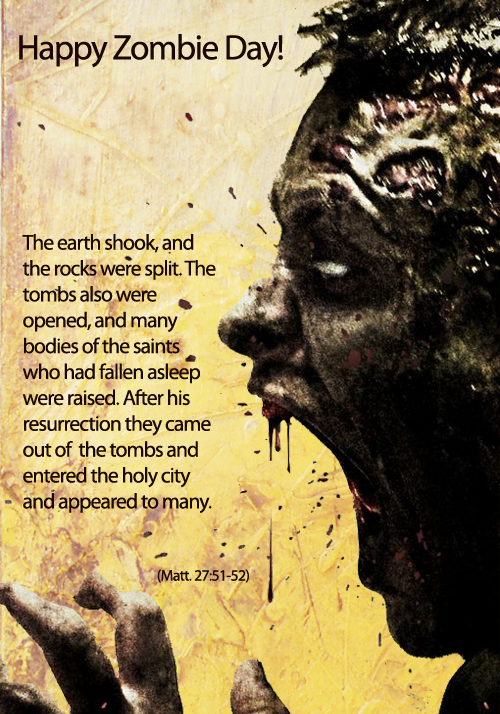 I think it's funny how many christians don't know the origins of most of the easter symbols.  Why, for example, are bunnies and eggs associated with zombies?  The answer, of course, is the early christians adopted the pagan symbols for fertility: rabbits that multiply quickly and eggs that are the symbol of life about to begin.  This is because the pagans respected nature and tried to stay in tune with it and in the Spring, animals begin to reproduce so that their young can be born under conditions that make it much more likely they will survive and be ready to face the winter.  The christians, however, perverted these natural symbols and stripped them of all meaning, such that now there are bunnies, eggs, and zombies, but no apparent connection between them.  Thus, does christianity pervert all that it touches.
I think that this Spring we should forget about the zombies and celebrate fertility by reflecting on the role of sexuality in our lives.  I think we should celebrate reproduction by thanking our parents and grandparents, if they're still alive, and appreciating our children, if we have any.  I think that we should remember that we are animals, a very special kind, to be sure, but animals nonetheless and we should not rail against this fact of nature, but embrace it and our animality.  In short, we should do away with christian mythology and celebrate our lives and our sexuality.
Automatically Generated Related Posts: