June 4th, 2010 by JasonStotts
by Jason Stotts
With everyone throwing blame around for the "BP oil spill," I would like to take a minute to shine a light on the real culprit: environmentalism and the politicians that support it.
BP is out to make a profit on oil.  That's what they do.  Does anyone actually think they'd be drilling at 5,000ft in the middle of an ocean if they didn't have to?  No, of course they wouldn't.   They're pushing the cutting edge of technology to do so and the cost of drilling at that depth is great.  They would much rather drill closer to land or even on land, where it's easy to get the oil and relatively inexpensive.  So, why don't they just do that?  It's illegal.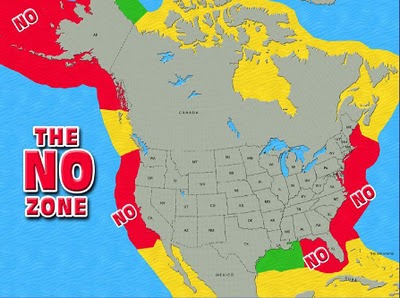 As Mark J. Perry from Carpe Diem points out:
"Why are we drilling in 5,000 feet of water in the first place?

Many reasons, but this one goes unmentioned: Environmental chic has driven us out there. As production from the shallower Gulf of Mexico wells declines, we go deep (1,000 feet and more) and ultra deep (5,000 feet and more), in part because environmentalists have succeeded in rendering the Pacific and nearly all the Atlantic coast off-limits to oil production (see map above, source).

And of course, in the safest of all places, on land, we've had a 30-year ban on drilling in the Arctic National Wildlife Refuge. So we go deep, ultradeep — to such a technological frontier that no precedent exists for the April 20 blowout in the Gulf of Mexico."
It is out of subservience to the cult of environmentalism that we are being forced to pay higher prices for oil, do to increased cost of drilling and imposed scarcity through drilling restrictions.  Not only are the environmentalists forcing us to pay higher prices for oil, they are encouraging disasters like the current one in the Gulf of Mexico through forcing oil companies to work at the very edge of existing technology.  The fact is, though, that the environmentalists absolutely love disasters like this so that they can point their fingers at oil companies and say "We told you so!  They're ruining the environment!"  The problem is that it is the environmentalists that caused this disaster by preventing BP from using proven drilling methods and by forcing them into the middle of the ocean.
So, the next time an environmentalist bemoans the Gulf Oil Spill, point your finger right at them and say "it's your fault!"