September 26th, 2010 by JasonStotts
by Jason Stotts
I find it sad and disheartening for the Objectivist movement that schisms are so common that we must name then and specify which we are talking about.
I've been trying to stay out of the McCaskey v. Peikoff dispute as much as I can, and I am still reserving judgment until more evidence comes to light, but things are starting to get rather ridiculous.  The newest, and crudest, thing to come to light, and the final straw for me is Tore Boeckmann's dishonest new Facebook note "A Tale of Two Warnings"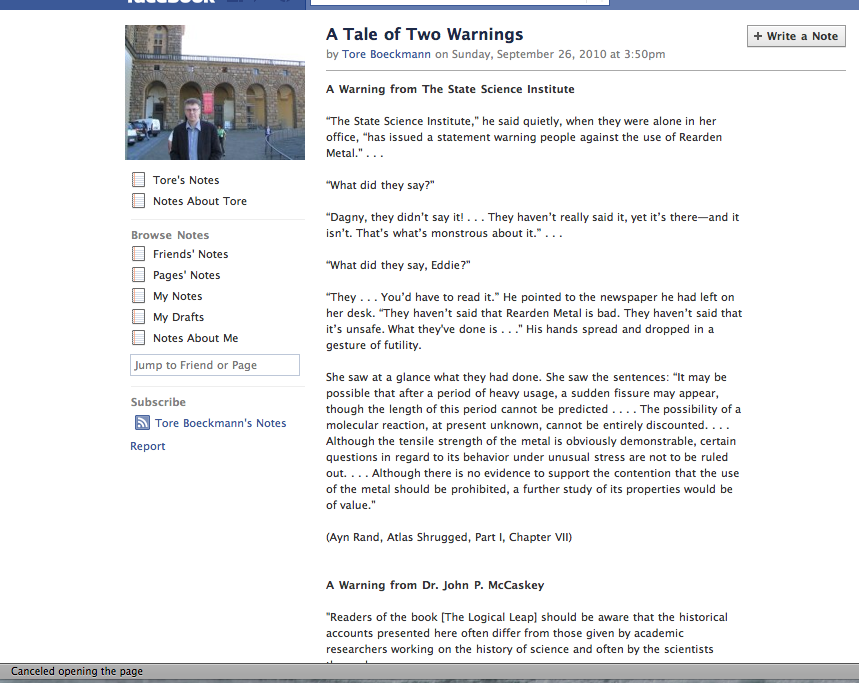 The full text of which is:
A Warning from The State Science Institute

"The State Science Institute," he said quietly, when they were alone in her office, "has issued a statement warning people against the use of Rearden Metal." . . .

"What did they say?"

"Dagny, they didn't say it! . . . They haven't really said it, yet it's there—and it isn't. That's what's monstrous about it." . . .

"What did they say, Eddie?"

"They . . . You'd have to read it." He pointed to the newspaper he had left on her desk. "They haven't said that Rearden Metal is bad. They haven't said that it's unsafe. What they've done is . . ." His hands spread and dropped in a gesture of futility.

She saw at a glance what they had done. She saw the sentences: "It may be possible that after a period of heavy usage, a sudden fissure may appear, though the length of this period cannot be predicted . . . . The possibility of a molecular reaction, at present unknown, cannot be entirely discounted. . . . Although the tensile strength of the metal is obviously demonstrable, certain questions in regard to its behavior under unusual stress are not to be ruled out. . . . Although there is no evidence to support the contention that the use of the metal should be prohibited, a further study of its properties would be of value."

(Ayn Rand, Atlas Shrugged, Part I, Chapter VII)

A Warning from Dr. John P. McCaskey

"Readers of the book [The Logical Leap] should be aware that the historical accounts presented here often differ from those given by academic researchers working on the history of science and often by the scientists themselves. . . .

"This [the author's account] is not the story other scholars have found in Newton's writings. They have concluded the following instead. . . .

"Most scholars find the process of scientific progress less linear than Harriman indicates and much more iterative and spiral.

"I cannot say that the conventional narratives (or my own) are all correct and Harriman's all wrong–certainly they are not–nor do I want to say how any inaccuracies would affect the theory of induction presented in The Logical Leap. I merely want to alert readers unfamiliar with the field that Harriman's narratives are often not the ones accepted by other scholars . . .

"The theory of induction proposed here is potentially seminal; a theory that grounds inductive inference in concept-formation is welcome indeed. But the theory is still inchoate. If it is to be widely adopted, it will need to be better reconciled with the historical record as the theory gets fleshed out and refined."

(Three-star [of a possible five] Amazon review of David Harriman's The Logical Leap: Induction in Physics)
I, of course, had to comment:
Look, I'm not trying to take sides here, but your little analogy here is dishonestly unfair. You omit all the substance from McCaskey's review and then call it insubstantial. This is from that same review:

"This is not, however, the account that Galileo himself gives. Harriman writes, "Imagine that he attempted to drop the lead or oak balls through water instead of air . . . . The result would not have led to any important discovery." But in the Discorsi Galileo presents the difference between dropping balls through air and dropping them through water as the very heart of his discovery. (Day One, 8:110-116). He begins by recounting a report of the tower experiment but does not consider it sufficient to establish the law. He instead explains that we must consider air as a medium and compare what happens in other mediums, such as water and mercury. He notes that heavier things (ones heavy enough not to float) do land at different times and the difference is bigger the higher the resistance of the medium. In water the difference is higher than in air; in mercury, the difference even higher. Galileo extrapolates and concludes that in a medium that offered no resistance, there would be no difference in speed of fall and all objects would hit at the same time. Galileo claimed that comparing the dropping of objects in air, in water, and in mercury is exactly what justifies his discovery, contra Harriman's claim." (Link)
Boeckmann dishonestly accuses McCaskey of failing to have any substance to his claim, after he ommitted all of the substance!  Of course, my comment was immediately removed and replaced with this:

When the truth becomes an insult, let me be insulting!  My highest allegiance will always be to the truth and damn the feelings that get hurt in the way!
Of course, Boeckmann has already unfriended me, and perhaps more shall do so as a result of this post, but we need to remember what we are talking about.  We're talking about the truth.  We are talking about issues of integrity and intellectual honesty.  Boechmann is clearly being intellectually dishonest in his comparison and purposefully ommitting crucial details in order to do so.
While I'm still reserving judgment in the original dispute until more evidence comes to light, it seems to me that McCaskey was only trying to help make The Logical Leap into a better book.  His review is amazingly reserved and the care with which he tried not to offend anyone is obvious.  It's important to note that McCaskey's only objections are to how Harriman presents the history of the science, not with his theory of induction.  Indeed, it seems that McCaskey was right to worry as he presents evidence that Harriman distorted the history in order to make it consistent with his thesis.  This makes him look intellectually dishonest and may disgrace what is a perfectly true and very good new theory of induction.  This is McCaskey's worry and it seems to me that he was only trying to help.