July 14th, 2011 by JasonStotts
by Jason Stotts
I saw this come across the twitter earlier today (via @kellyelmore79) and several people were kind enough to forward it to me as well. I think it's one of the best things I've seen in awhile.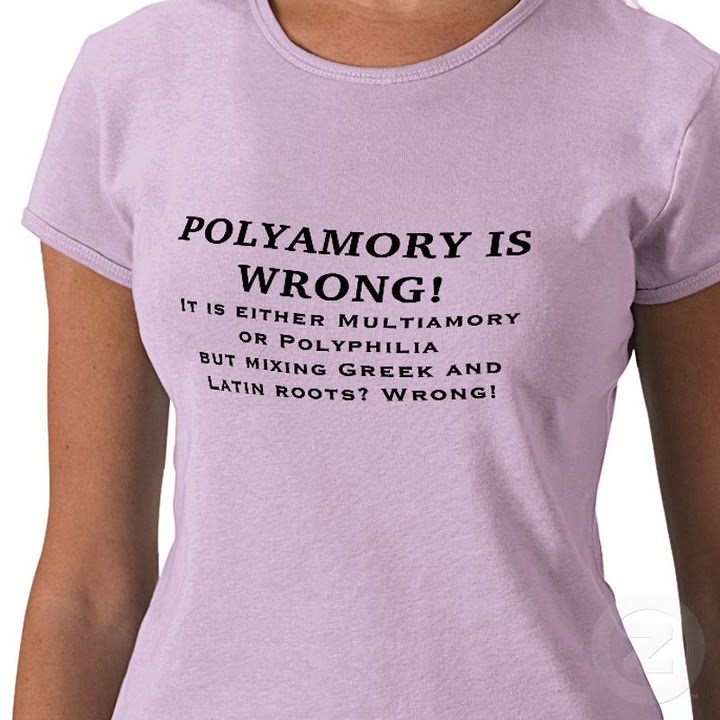 I share this etymological worry myself.  As I said in "On Polysexuality":
What I am interested in analyzing is the practice of having multiple sexual partners.  […] I will begin by naming it "polysexuality" combining the Greek poly- (more, many) with the Latin sexus (sex) and meaning by it the condition of having multiple, or more than one, sexual partners during any one time period (not necessarily simultaneously) or of having sex with people besides a person's partner while he is in a relationship.  As much as I hate to combine Greek and Latin, the standard nomenclature regarding sexuality has already been bastardized and, so, for clarity's sake in English, I will follow suit.  The problem is that there is no sufficient word in the English language to deal with the phenomenon that we are analyzing and so I must introduce this new word to carry the cognitive weight of the following analysis.  Furthermore, in contrast to "polysexual," I will introduce the word "monosexual," the Greek mono- (one), as meaning sex with only one person during any time period or, to put it another way, a person who does not have sex with anyone besides his partner when he is in a relationship.
Unfortunately, English is lacking in some pretty important words regarding love and sexuality.
Furthermore, the word "poly-philia" (from the shirt) more properly means that one has a lot of friends than it means something like multiple lovers.  The greek philia is the love of a friend, not the romantic concept of love that we have in our culture and which is absent from Greek culture.
Ultimately, I think that in these matters we are either going to have to bite the etymological bullet and accept the bastardized words or have issues being understood.