August 29th, 2011 by JasonStotts
by Jason Stotts
I haven't talked much about guns here on Erosophia before, but in the last couple of years, I've really taken an interest in them.  I'll probably write about why at some point in the future, but for now here is my report from our most recent visit to the range.
My friend Earl and I went shooting at the LA Gun Club over the weekend in downtown LA.
We brought a couple of our own guns including a Colt Gold Cup, a Dan Wesson CBOB, Smith and Wesson .38, and Ruger 22/45.  For fun, we also rented several 9mm's, including  a Walther P99, CZ-75b, HK USP, and a Glock 19.  It was quite the arsenal!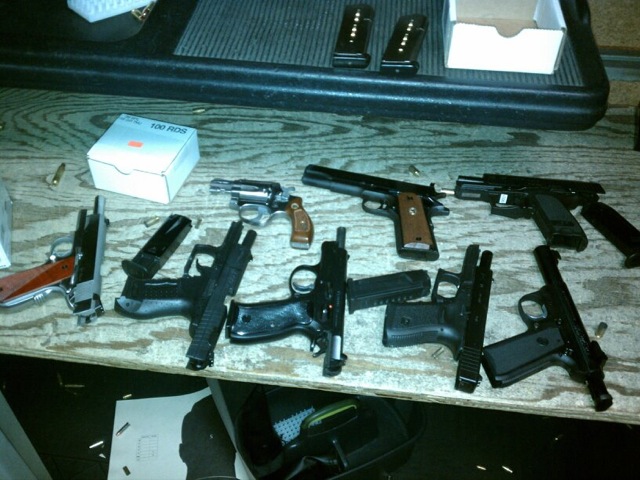 We shot over 100 rounds of 9mm, lots of .45, and a good deal of .22.
This is my first target, at 25 ft.  The upper orange group is the CZ-75b.  The lower orange group is the Glock 19, which I shot better than I expected.  The fliers are from those two guns too (getting used to them) and from the HK USP 9, which I did not shoot well at all.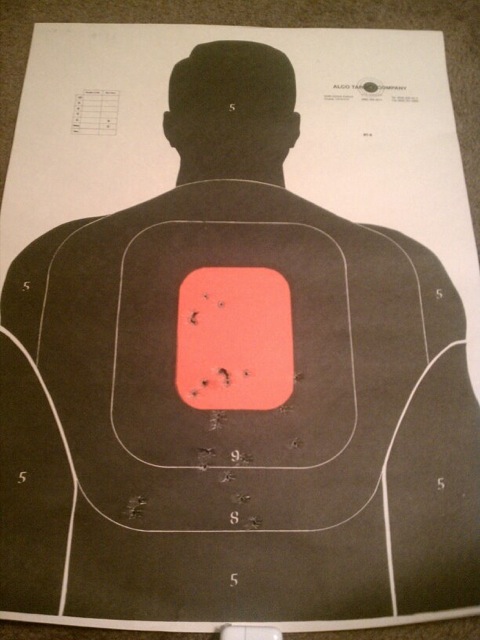 This is my second target.  The scattered orange is the Walther p99, which seemed accurate enough (I got all orange with it), but the trigger was what I can describe as only "mushy" and I couldn't tell when it was about to fire.  The lower impacts are my CBOB, which I'm sure is very accurate, but I can't shoot it that well.  I flinch more when I shoot the .45 and always end up shooting low, unless I really overcompensate and aim really high.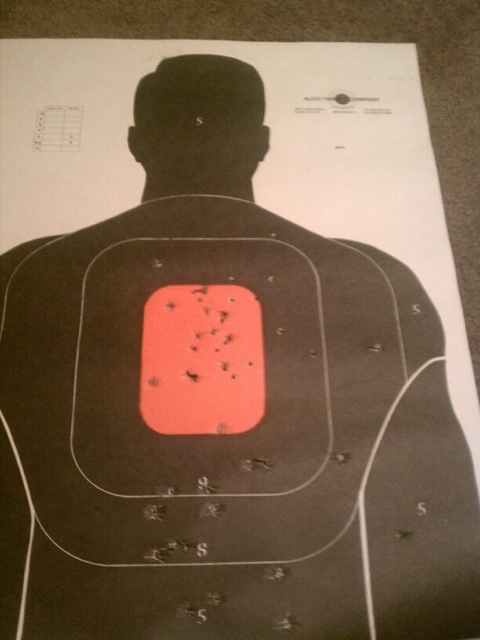 This is my third, and last, target.  The top group is the CZ-75b again.  The group around the 9 is my CBOB again (I get better with the .45 as I warm up.  The middle group is the Glock 19 again.  The random really small holes are the Ruger 22/45 (on this and the above target).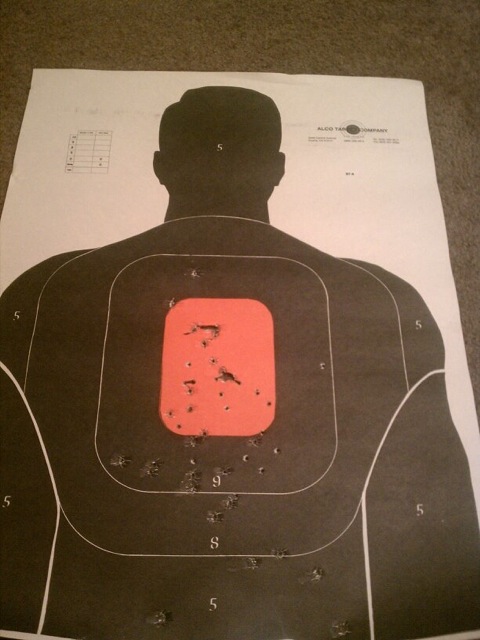 All in all, I'd say that I really liked the CZ and Glock the best and I think I'm going to look into selling my .45's and going to 9mm, which I'm much more accurate with.  It's not like I wouldn't have hit the person with the .45, but I feel like putting the bullets where you want them is probably better than simply getting impacts.
All in all, we had an excellent time.
Automatically Generated Related Posts: