January 3rd, 2013 by JasonStotts
by Jason Stotts
2012 was another good year for Erosophia.  Readership is up quite a bit and we're still winning awards.
Also, I'm still having fun.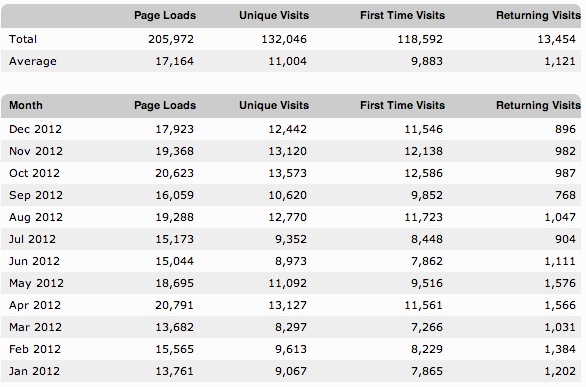 (Note: 2010 is only a partial year as that's when we moved from Blogger to self-hosting.)
Notable Things in 2012:
– Erosophia was again one of the Top 100 Sex Blogs.  I moved up quite a bit from #93 to #67!  In 2013 I hope to make it into the top 50.
– In May I attended ATLOSCon again and this year I delivered both a lecture at the conference and a practical sexuality workshop after hours. (My paper from ATLOSCon 2011 "Sexual Ethics and Objectivism" is also available now here or here).
– In August I was interviewed by Diana Hsieh for her "Philosophy in Action" podcast. I talked about "Common Mistakes Couples Make about Sex" and Diana and I had some good conversations about sex and sexual ethics. If you've never checked out her podcast, I recommend you do so.
– I recently hosted my first Google+ Hangout where I answered questions during a live broadcast.  It went pretty well and I imagine that I will do it again.
– Have two essays on Amazon now: "An Essay on Sexual Ethics and Objectivism" and "An Essay on The Bounds of Passion and the Good Life: Alternative Sexualities and Ayn Rand's Objectivism."  You can also subscribe to Erosophia for Kindle via Amazon for only $.99/mo to help support Erosophia.
– Erosophia now has it's own Facebook Page.
– I started a podcast and had fun doing it, but the amount of time I spent on audio editing and things made it prohibitive.  I would like to start it back up this year and start doing it regularly, perhaps monthly.  If someone wants to provide audio editing services, I'll probably start it back up soon.
– Lastly, I'd like to invite you to support Erosophia.  You can donate money via Paypal at the link on the Right or by sending it to Jason(at)JasonStotts.com.  You can also send an Amazon or Chase payment to the same address.  If you want to send a check or money order, write me there and I'll tell you how.  I would also happily accept Amazon GC's. If you can't support us monetarily, please spread the word about Erosophia.  If my writings have helped you in any way, write me and tell  me about it.  Getting those emails is like spiritual and it helps me to keep going.
Without any further ado, here's my top 10 essays from last year:
10. On Guns
If you value your life, you have a moral obligation to defend it.
9. Aporia: Sexual Orientation and Aporia: Sexual Identity
This set of two Aporias, complicated problems without clear answers, deal with sexual orientation and sexual identity and in them I seek to tease out the nature of each, including perhaps new ways to think about each.
8. Cis and Trans: Untangling Confusion
Here I discuss the concept of "cis-sexuality" and why it's an epistemological abomination.  I also discuss transsexuality, its origins, and whether it is moral.
7. Rape and the Magical Female Body
If one needs any clearer idea of the ignorance and insanity that is religion, one needs only to look to the christian beliefs about the way reproduction works.  If the Republicans ever want to get back in office, they need to stop attacking women.
6. Aporia: Is Physical Beauty Itself a Value?
In this Aporia, I try to answer the question of whether physical beauty itself can justify sexual activity.
Are you one of those people who think Valentine's Day is merely a "Hallmark Holiday"?  If so, you could be hurting your relationship.  We should not forgo opportunities to remind our partners that they are a value to us and that we're happy to have them in our lives.
If we really want to win the world, we must give people something positive to believe in.
3. "Contra Peikoff on Rape", "Follow-Up to Contra Peikoff on Rape", and "Conclusion to Contra Peikoff on Rape?"
In February Leonard Peikoff openly advocated rape.  There was an ensuing brouhaha after I forcibly objected to this (I wasn't the only one) and Peikoff eventually issued a partial retraction of his claims, although he ended up still maintaining that raping a woman can be moral in certain circumstances.  This set of essays chronicles the problem, my response, Peikoff's follow up, and my final statements.
2. On Purpose
I've been struggling for a while with the question of how to find a career about which you can be passionate.  So, in this essay I attempt to look at the issue philosophical and I realize some surprising things.
What is pedophilia?  Is it sex between adults and teenagers?  Can it be between children?  Is it moral or immoral? In this essay I provide an analysis of the nature of pedophilia (it's more complicated than you might think) and an explanation of why it's immoral.
———————
Prior Years: