February 21st, 2013 by JasonStotts
by Jason Stotts
Last night I got to meet Christopher Ryan in LA at an event he was speaking at.  Well, "meet" is perhaps a little strong, but I got to shake his hand, talk to him a little bit, get our picture taken, and get my copy of Sex at Dawn signed. (For a couple of people, you'll be interested to know Technogeisha took this picture.)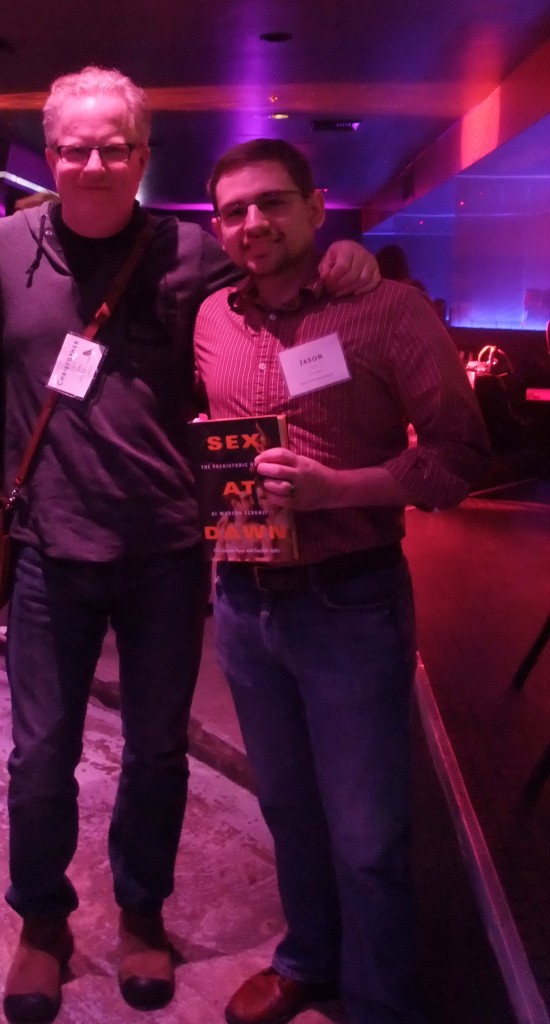 The event was put on by "Mind Share LA," a group in LA that apparently meets monthly or so to listen to lectures, see artistic events, etc. Clearly, I really don't know much about them, I only went to see Christopher Ryan.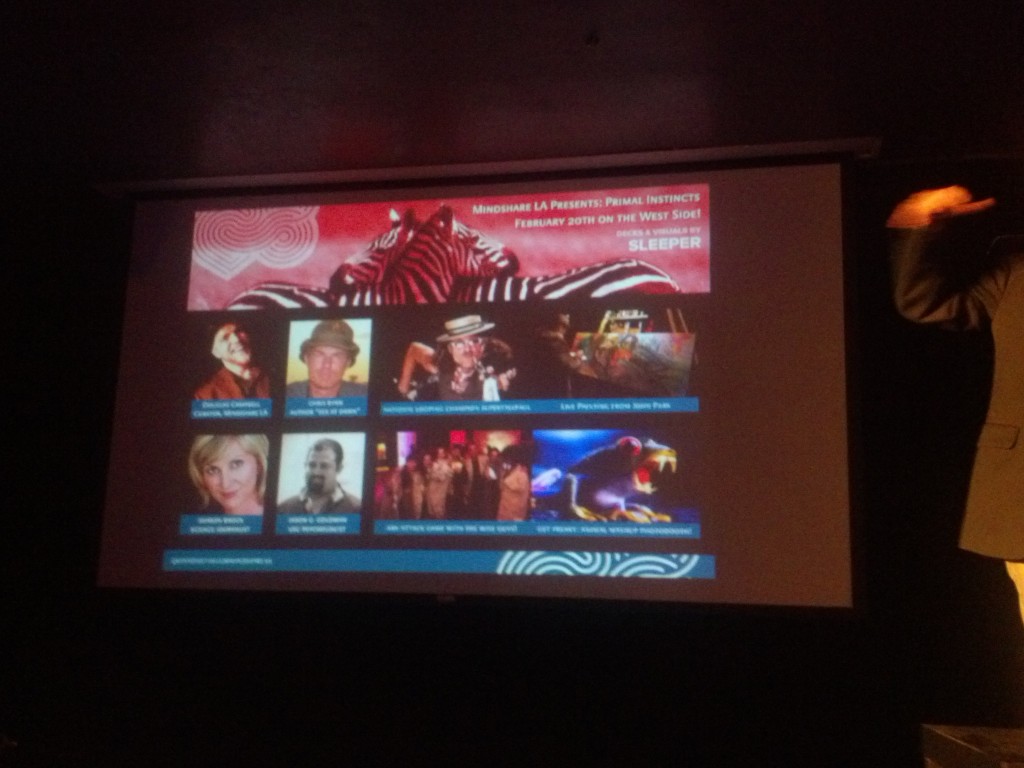 There were three speakers last night: Christopher Ryan, Sharon Brock, and Jason Goldman.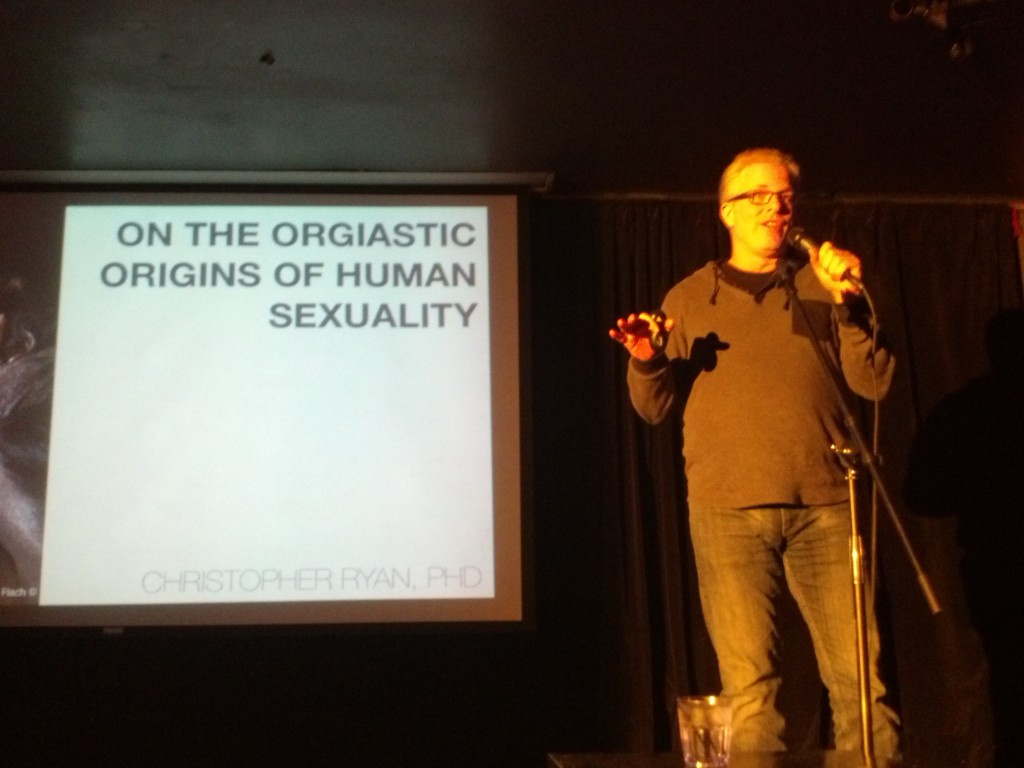 Christopher Ryan gave us his practice run of a talk he's presenting at TED in March.  He did an excellent job speaking and hit some of the more interesting points from Sex at Dawn.  If you haven't read Sex at Dawn yet, you really should.  I don't agree with every part of it, but it's an outstanding book and it will challenge you to rethink the way you think about sexuality.  Although, realistically, if you're an Erosophia reader, it might not be that much of a shock to you.
(Oh, Christopher, in the span of 5 minutes you asked us "How many primates are monogamous?", said "zero", then showed a slide stating that the Gibbon is monogamous.  You might want to clarify that point before TED.)
This is Sharon Brock, she talked about the neurobiology of love and relationships.  Honestly, I thought her presentation was mediocre at best.  It could have been because she followed Christopher Ryan, who was an excellent speaker, or it could have been because she oversimplified the neurobiology so much as to given completely wrong information. For example, she explained that in new relationships dopamine spikes and after several years it "goes back to zero." What she should have said is that it goes back to a person's basal state.  If it actually went to zero, you'd kill yourself due to extreme anhedonia; it is just wrong to say it goes back to zero.  I guess if you're new to the idea of neurobiology and relationships, her talk was interesting.
The final presenter was Jason Goldman who is a grad student at USC (I didn't get a picture).  His talk was on animal sexuality and similarities and differences between animal sexuality and human sexuality (well, mostly it was about the animal sexuality).  It was a very well delivered talk and the information was interesting.  I'll be interested to see what else he does when I get a chance.
I really loved seeing people take time out of their day to get together to see lectures: I love those who love to learn.  If only there were more interesting lectures and it became a cultural phenomenon, that would surely make our world much better.  I strongly believe that mental lethargy and apathy are killing civilization.
I'm really glad we went to the event and I'm glad that Mindshare put it together.  Listening to Christopher Ryan also made me think about my speaking style and that it could definitely be more engaging. So, I'm going to have to work on that, especially if I end up presenting at ATLOSCon again this year.
Oh, and Christopher Ryan, if you want to hang out while you're in LA, let me know!