July 16th, 2013 by JasonStotts
by Jason Stotts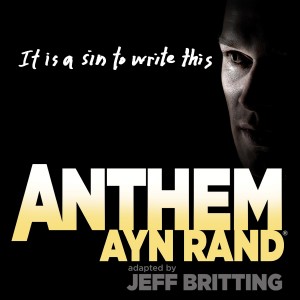 It's no secret that Ayn Rand is one of my favorite authors and philosophers.  So, imagine my excitement when I found out that one of my favorite of her books is being made into a play!  Jeff Britting, who I first met  back in my interns days at ARI, has taken Anthem and adapted it for the stage.  Anthem is a really great book and is easily readable and the message is very easy to understand.  I don't want to say too much about the story, because it's a great story and it's best to experience it yourself, but it's set in a dystopian collectivist ideal world.
If you're in New York, go see this play!  I would recommend reading the book first to really understand the play, but I'm sure it'll be good either way. The website for the play is: www.AnthemthePlay.com
The press release is below:
FOR IMMEDIATE RELEASE

Contact: Miller Wright / Justin Garascia at (212) 977-7800

THE AUSTIN SHAKESPEARE THEATRE COMPANY PRESENTS A STAGE ADAPTATION OF AYN RAND'S NOVEL ANTHEM TO BE STAGED ON THE 75TH ANNIVERSARY OF THE NOVEL: OFF-BROADWAY AT THE BARYSHNIKOV ARTS CENTER TO OPEN OCTOBER 4TH FOR A LIMITED 10-WEEK ENGAGEMENT

The Austin Shakespeare theatre company will present the New York premiere of Ayn Rand's novel ANTHEM. Adapted for the stage by composer Jeff Britting, archives curator for the Ayn Rand Institute, the production is to be directed by Ann Ciccolella, artistic director of the Austin Shakespeare theatre company. Previews are to begin September 25at the Jerome Robbins Theater at the Baryshnikov Arts Center in New York City—opening October 4 for a limited ten-week run through December 1, 2013

ANTHEM is the story of a young man, EQUALITY 7-2521, who is born into a future world that has banished all individuality. Not satisfied with a world lighted by candles, EQUALITY fosters his love of discovery in an abandoned subway, a relic of the past. In solitude, EQUALITY rediscovers electricity and a new source of light. Above ground he meets and falls in love with LIBERTY 5-3000, committing a further "sin of preference."

Originally conceived as a play while Rand was a Soviet university student, ANTHEM the book was written in America in the summer of 1937, during a break Rand took from the writing of her novel The Fountainhead. ANTHEM was published in England in 1938. Since its full American publication in 1961, the work has sold more than 5 million copies. As reported in 2010, ANTHEM was the most popular adult novel checked out of the New York Public Library system. The novel remains a favorite among youth and is the subject of the most popular high school essay contest in the world, with more than 19,000 entries annually. ANTHEM's Off-Broadway staging coincides with the celebration of the 75th Anniversary of the novel's publication.

The principle ethical-political issue in ANTHEM—and of our time—is individualism versus collectivism.

Is the individual the primary element of society, or is the group the basis of society? The play poses the questions: Do individuals have the right to think and choose their own goals in life—and pursue their own happiness? Or do the wishes of society determine the goals of individual lives—and is service to others the primary moral obligation among men?

When Austin Shakespeare produced Jeff Britting's adaptation of Ayn Rand's ANTHEM in 2011, the show generated sold-out and added performances.  Theatergoers came from other parts of the United States and abroad, and audiences were intrigued enough to participate in lively post-show discussions. Austin Shakespeare looks forward to the transfer engagement Off-Broadway at the Baryshnikov Arts Center which will comprise an entirely New York City-based cast. With a background very involved in music, Mr. Britting has incorporated a unique underscore throughout the production, making it an innovative theatrical experience for the limited ten-week engagement.

Ann Ciccolella is artistic director for the Austin Shakespeare theatre company, Ann has directed: Jane Austen's Pride and Prejudice, Noel Coward's Design for Living, Tom Stoppard's Arcadia, Oscar Wilde's An Ideal Husband, George Bernard Shaw's Man and Superman, and Friedrich Schiller's Mary Stuart. Also Shakespeare's: Macbeth, Much Ado about Nothing, Measure for Measure, Hamlet, Romeo and Juliet, A Midsummer Night's Dream, The Winter's Tale and a Bollywood-inspired Twelfth Night for Austin Shakespeare in the Park. As a director at Zachary Scott Theatre, Ann directed: Cabaret, The Vagina Monologues, Full Gallop, Closer, Master Class, and Misery. Also for the annual Summer Musical in Zilker Park, she staged Stephen Sondheim's Into the Woods. Other Austin directing credits include: Hedda Gabler, and Other People's Money, as well as productions of her scripts as a playwright. Before moving to Austin, Ann served as associate director for Shakespeare on Wheels, from the University of Maryland Baltimore County for three years. For ten years, she led the Renaissance Theater Company as artistic director, producing and directing in New York and along the East Coast with shows ranging from Oedipus Rex to Cyrano de Bergerac. A frequent guest lecturer at the University of Texas department of Theatre and Dance, Ann is a graduate of NYU in dramatic literature, history of theater and cinema.

Austin Shakespeare is the only professional classical theater company in Central Texas. A nonprofit professional theater company, Austin Shakespeare operates under an Actors Equity Small Professional Theater contract.  A Resident Company of the Long Center for the Performing Arts, Austin Shakespeare presents a season of plays by Shakespeare and other playwrights. This season includes The Belle of Amherst, based on the life of Emily Dickinson, and Shakespeare's Othello and As You Like It.

Jeff Britting is the archives curator for the Ayn Rand Institute. He holds a B.A. degree in philosophy from the University of California at Berkeley, where he attended the university's first course on Ayn Rand's philosophy, Objectivism. He is the author of Ayn Rand, a biography in the Overlook Illustrated Lives Series published by The Overlook Press in February 2005. His essays "Adapting Anthem: Projects That Were and Might Have Been," and "Anthem and the 'Individualist Manifesto'" are included in Essays on Ayn Rand's "Anthem", edited by Robert Mayhew (Lexington Books in 2005). He associate-produced Ayn Rand: A Sense of Life, a 1997 Academy Award Nominee for Best Documentary Feature. He managed the Ayn Rand Archives from 1997 through 2011, when he began the first systematic preservation and arrangement of its Ayn Rand Papers and special collections. Mr. Britting also associate produced and composed the incidental music for the first stage production of Rand's play Ideal. His special interests are music and drama.

ANTHEM  starts previews September 25 at the Baryshnikov Arts Center's Jerome Robbins Theater in New York City. Opening on October 4 Anthem will run through December 1, 2013. Tickets will be available through: www.AnthemthePlay.com or through Ovation Tickets at 866-811-4111. The Baryshnikov Arts Center is located at 450 W 37th St between 9th&10th Avenues. Ticket prices range from $50-$69.