August 13th, 2013 by JasonStotts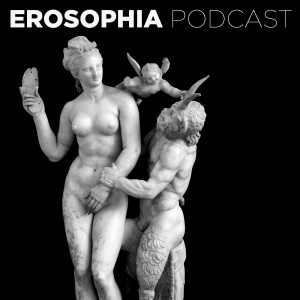 In this episode of the Erosophia Podcast, Jason, William, and Joia, argue about erotica and pornography.
News
1. The Erosophia Podcast is Hot on iTunes!
2. Smallest Penis Contest Winner
4. 2 naked women caught swimming in ocean in Myrtle Beach, police say
6. Russia arresting those who promote "Non-traditional sex relations"
Books: Gay, Straight, and the Reason Why
Get a free 90 day trial by signing up with the banner link!  Make sure to friend us on Kasidie (Erosophia) and check out our group: http://www.kasidie.com/communities/Erosophia
Questions
Hey Jason,
How do you know when you're ready to get married?
Cheers, thanks for putting out the writing you do, and answering my previous question.
-B.
Sex Tips
Kinky doesn't mean immoral or bad.
Homework: Think about what you've done that's kinky.  Did you enjoy it?  Would you do it again?
Tonight's Topic: Erotica & Pornography
The topic of pornography is more complicated than you might think and even trying to pin down what exactly porn is and whether it has a connection to art, is hard.
There's no summary this time, because we haven't come to an agreement yet.
Joia's Pictures
From Joia:
Here's the link to Carnalus's erotic photography blog, Penetration of Light, which I mentioned on the podcast: http://light-penetration.blogspot.com (NSFW)
You can find another example of my modeling here: http://light-penetration.blogspot.com/2011/09/bend.html?m=1 (NSFW)
A particular favorite of mine is a self- portrait he did that inspired me to write a kind of poetic essay in response, one of the best pieces of writing I think I've ever done (I posted it in the Comments) — it turned me on, so I guess that makes it pornographic writing by some definition! http://light-penetration.blogspot.com/2012/10/out-of-darkness.html?m=1 (NSFW)
Joia 1 (NSFW)
Joia 2 (NSFW)
Joia 3 (NSFW)
Thanks to Carnalus Vidal for his permission to repost the pictures.  More of his work can be found at Penetration of Light (NSFW).  Also thanks to Joia for sharing them with us.
Subscribe to the Podcast
You can subscribe via iTunes or RSS.
Support the Podcast
You can support the show by making a donation via PayPal (see bar to the right) or Amazon Payment (or any other payment method you might want, just get in touch with us).  You can also use Erosophia's referral link to Amazon to buy things.  You can sign up for Kasidie, the best lifestyle site on the web.  Or you can tell your friends and spread the word about the podcast on Facebook and Twitter.
If you want to advertise on the Erosophia Podcast, please contact us at [email protected] or on twitter via @ErosPod.
Connect with us on the web:
Facebook: www.facebook.com/ErosophiaPodcast