May 8th, 2015 by JasonStotts
by Jason Stotts

I really can't believe that it's been 10 years since I started blogging!
Blogging is interesting.  I never set out to be a blogger.  In fact, I only started writing a blog on a lark.  Then, I just sort of kept writing and at some point things got interesting.  Somewhere along the line people started reading and then I accidentally became popular. I still have no idea how. I'm glad it happened though.
Anyway, I'm happy to announce that we're half done editing Eros and Ethos and we're optimistically shooting to release in Q4 of this year, probably December. Editing is going a little slower than I would like, but the book is definitely benefitting from it and it's much better now than it was before we started.
I also want to announce that I've started writing a second book, tentatively titled The Wizard's Tower. This book, unlike Eros and Ethos, will be fiction. It's a fantasy book set in a land where wizards rule. It revolves around a new High Wizard and the choices he must make as a ruler who never had any aspirations to rule.  It's already a third of the way written and we're starting work on the cover. Joseph Pearson is helping me with this project as well (if you need design work, check him out). Here's a really tentative cover he mocked up for it: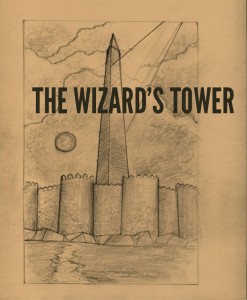 I hope to have The Wizard's Tower published in the next two years.
One other announcement: the Erosophia Podcast is going to start recording again! We got a little behind there, but we're back on the ball now and we're starting to record again next week.
If you've enjoyed Erosophia these last 10 years, please consider sending me some love.
You can donate via PayPal:
You can email me and tell me that my work has had some impact in your life: Jason(at)JasonStotts.com (I could really use this one right now).
Or, you can like Erosophia's Facebook page: https://www.facebook.com/ErosophiaBlog.
Finally, I want to thank all of you, my readers and listeners, for a great decade and I look forward to many more years to come.