November 1st, 2017 by JasonStotts
by Jason Stotts
I am so very pleased to finally be announcing the immanent publication of Eros and Ethos. It has been nearly 10 years in the making and I think it's simply amazing. I hope you will as well.
And now for the cover reveal: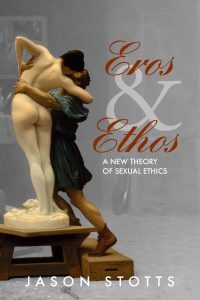 The ebook will be published on February 9th. It will be available for purchase and available via Kindle Select for the first 90 days. After that, it will also be available through other outlets. Pre-orders for the ebook is available here: Amazon.
The ebook will launch in all Amazon markets concurrently (including Canada, the UK, Australia, etc.). It will only be available in English at launch, but may be available in other languages in the future.
The paperback version of the book will be available at the same time or shortly thereafter. Anyone who purchases the paperback through amazon will have the option to concurrently buy a discounted version of the ebook for an additional $2.99.
There will be a limited run of 50 signed and numbered copies available for purchase directly through Erosophia on (hopefully) launch day. These can also be pre-ordered so that you can be guaranteed one. They will be $50 each and will help support my work and will go a long way to getting Volume 2 out. These are also already 20% sold, so don't wait too long if you want one. (To pre-order one, email me at Jason(at)JasonStotts.com)
Regular signed paperbacks will also be available through Erosophia for $20 plus shipping. Anyone buying either the special numbered edition or the regular signed copy will also have the option to get the ebook at the same time for an additional $2.99.
Here is the description:
Sexual ethics has historically been a bleak landscape of three false alternatives – resist, abstain, or indiscriminately indulge. In Eros and Ethos, philosopher Jason Stotts presents a radical new alternative in which sex is an ethically important part of a rich human life. He shows how sex is a significant expression of our character, because sex arises out of the deepest and most fundamental parts of who we are. On his account, virtue lies in proudly bringing desire in line with our flourishing so that we can create rich and meaningful lives.
There are going to be TWO contests starting on pre-launch day (Nov. 11), so keep your eyes peeled for those.
Check out the launch site at http://erosandethos.com/
Amazon link: http://amzn.to/2hlNRVq
Goodreads link: https://www.goodreads.com/book/show/36505055-eros-and-ethos
To get insider information, join the newsletter: http://jasonstotts.com/newsletter/