March 14th, 2018 by JasonStotts
by Jason Stotts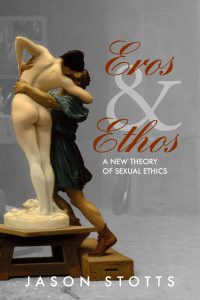 Are you part of a reading group, student group, or even a group of friends who want to read Eros and Ethos? If so, I am now offering discounted paperbacks to groups who want to read it.
Who qualifies?
Established reading groups
Book clubs
Student groups
Academic departments
Other groups (decided on a per-group basis)
What do you get?
Your group/organization can purchase copies of Eros and Ethos for $9 per copy, including free shipping
That's nearly 1/2 off the regular price of $14.95 when you factor in free shipping
Note: this cannot be combined with special copies, including signed copies
How to get started?
Email me at [email protected]
Please include some information about your group in your email
What's the catch?
You must order at least 5 books
Currently limited to the continental US
Other locations can take advantage of the discounted books, but will pay more for shipping
Note: This is a limited time offer and it may be discontinued without notice.