April 25th, 2018 by JasonStotts
by Jason Stotts
I am releasing a minor update to Eros and Ethos, details of which can be found in the changelog.
It will start with an update to the ebook effective today. The ebook will also be getting a new cover, due to the old cover violating advertising TOS against "nudity" and us being unable to use it in ads.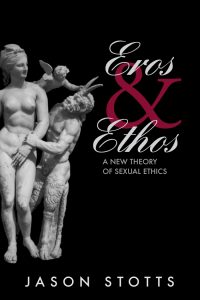 The paperback will be updated sometime in the next week, once I get an updated proof and make sure the update won't break anything in the print edition. That said, if you want a true first edition paperback, you had better order it now as they won't be available much longer.
To celebrate this update, the ebook will be on sale for $4.99.
Note: If you have already purchased the ebook, you can update to v1.1 for free by following this guide.