June 27th, 2018 by JasonStotts
by Jason Stotts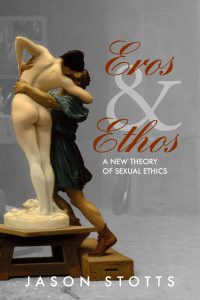 For just one week, the ebook version of Eros and Ethos: A New Theory of Sexual Ethics will be on sale for over 50% off at just $2.99! If you've been waiting to pick up your copy, this is the time to do is. The sale runs from Sunday, July 1, 2018, 8:00 AM (PDT) to Saturday, July 7, 2018, 12:00 AM (PDT). It really is an amazing book. Just check out all of the positive reviews it's been getting so far on Amazon!
Speaking of reviews, if you've already read Eros and Ethos and you haven't reviewed it yet, please take a minute to do so. Even just a couple of sentences makes a big difference when people are deciding whether to buy a book from a new author. You can post reviews on Amazon or Goodreads (or both!), depending on your preference.
If you haven't read it yet and you're not sure you'd like it, you can download the introduction for free by clicking here.