August 13th, 2018 by JasonStotts
by Jason Stotts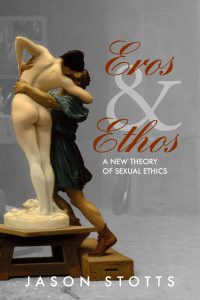 It's now been just over 6 months since Eros and Ethos: A New Theory of Sexual Ethics came out! I am happy to report that so far the book is selling well and the reviews have been good. To date, we are just shy of our 200th copy! Currently, most people are buying ebooks (75%), with the rest of the sales being paperbacks.
Moreover, the reviews have been really wonderful with a score of 4.5 out of 5 and 13 reviews (the overall score was brought down by 1 negative and unsubstantial review). Here are just a couple of the really nice things people are saying:
"Get ready for the first part of a very thoughtful and enlightening ride. I can't wait for the next installment to arrive!"
"I was raised in a sex shaming household, and it is very difficult to live with conflicting thoughts about my own sexuality, desires, and societal pressures. This book is imperative for anyone struggling to reconcile their sexuality with morality."
"This is an important book for anyone seeking a rational approach to sex"
"This was a fantastic book, an excellent purchase, and well worth my time."
"This is a vastly important (and possibly life-changing) book for anyone floundering and/or seeking growth and happiness within a romantic/erotic relationship."
"I've never read anything related to the topic of sex that addresses the subject so thoroughly, so positively, or so helpfully."
"Bottom line, an excellent addition to my library. Suitable for academics and laymen alike."
Go take a look at the full comments yourself, they're amazingly kind and speak highly of the book.
The audiobook has been delayed due to production issues, but I hope to find a new narrator soon (if you're interested, let me know). No current ETA on the audiobook, but I'll be sure to announce it when there's something more definite.
Overall, I've very happy with the launch and I hope that the sales keep climbing as new people read the book and recommend it to their friends. If you've already read the book, please take a second to leave a review, it makes a big difference and I love seeing them.