August 28th, 2012 by JasonStotts
by Jason Stotts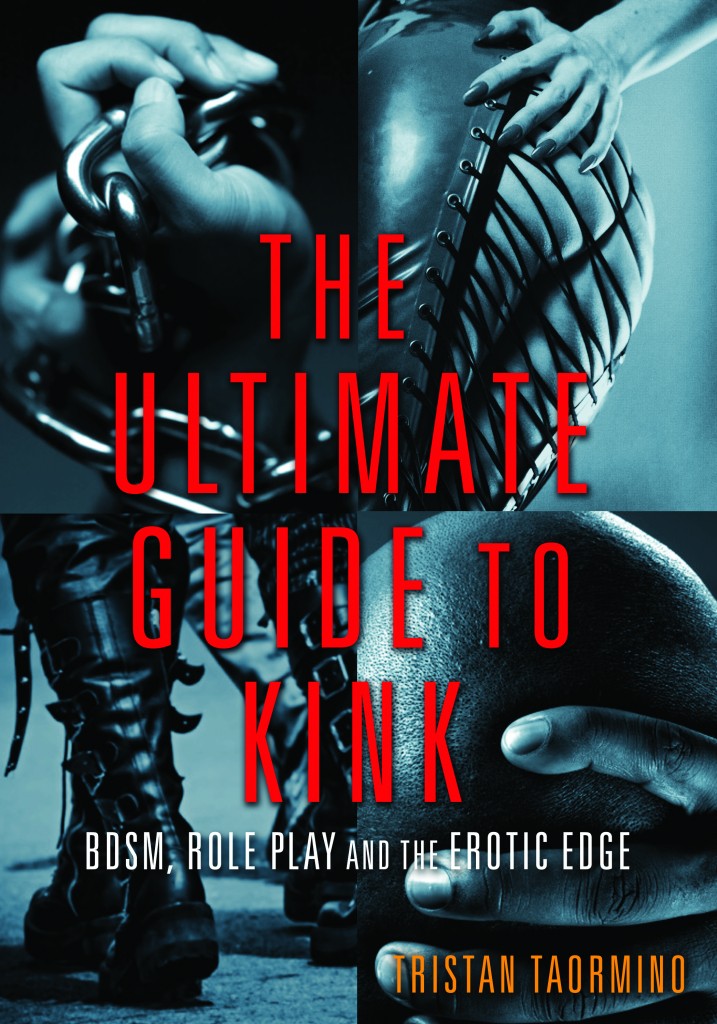 I recently got a copy of The Ultimate Guide to Kink: BDSM, Role Play, and the Erotic Edge edited by Tristan Taormino and after having read it cover to cover, I have to say that it's up to Tristan's usual standard of excellence. This book is a little different from other Tristan books in that it's not written by Tristan herself, but rather is a collection essays from different experts on different subjects in kink.  The result is that you get a lot of good advice and opinions on a wide range of subjects. The book is split into two halves, the first half is practical sexual techniques like impact play (Ch. 2), vaginal fisting (Ch. 4), and CBT (Ch. 6), while the second half is more theoretical on subjects like feminine dominance (Ch. 13), submission (Ch. 14), and sadism (Ch. 16).
My three favorite essays:
1. "Making an Impact: Spanking, Caning, and Flogging" by Lolita Wolf.  I really liked how this author (I can't talk seriously about an essay and call the author "Lolita") intertwined a story about impact play and instruction on how to do it.  The effect was to see action in a story, then have it explained so you understood what had happened and how to do it yourself.  It was very well done and the information in the essay was very good.
2. "ForteFemme: The Art and Philosophy of Feminine Dominance" by Midori.  I really liked how Midori broke down the idea of feminine dominance into something that people could understand.  Sometimes the reason we can't get started with something new is simply our own ignorance.  We don't know what we don't know and we don't even know enough to ask the right questions.  By breaking the idea of feminine dominance down into understandable parts and then explaining how to build this into a "fortefemme" persona cuts right through the ignorance and will certainly be helpful to those wanting to learn more about female domination.  I particularly liked this line: "The ultimate power is that of persuasion.  To get the submissive or bottom to want to do for you what you command of them–that's dominance." (292) I think she's right on the mark about this and this shows me she understands the essence of dominance.
3. "Enhancing Masochism: How to Expand Limits and Increase Desire" by Patrick Califia.  Patrick's essay does a good job discussing terminology and drawing some clear lines to help people understand masochism and sadism.  The real gem in this essay is in the section called "consensual nonconsent," where Patrick says: "I recommend a no-fault attitude for BDSM players.  As long as both partners respect each other, make a good-faith effort to abide by each other's limits, and are open to feedback, I think that missteps ought to be understood as part of the price you pay for being on the edge." (330) I totally agree with him.  To approach kink play, especially S/M, with reservations about accidentally hurting someone or going too far is to go about it all wrong.  You absolutely should be respectful of your partner and their limits, but if you're going to engage in edge play, you can't expect that nothing bad will ever happen.  You just have to try to prevent it, but not at the cost of enjoying yourself and your sexuality out of fear that something bad might happen.
Overall, Tristan delivers with another excellent book on sex and I recommend that you check it out if you're interested in learning more about kink.
———–
If you're going to purchase The Ultimate Guide to Kink, please use the links provided here to support Erosophia with referral credit.