December 23rd, 2013 by JasonStotts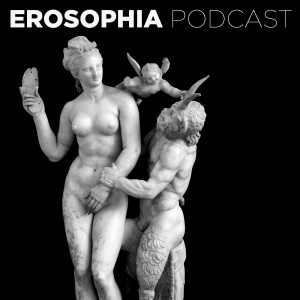 In this episode of the Erosophia Podcast, Jason, Devin, William, and Joia, discuss sex work and erotic dancing.
News
Question
I need advice on how to establish a sexually active lifestyle. I am a virgin in my mid-twenties who lives with his parents and can't have a partner over for complicated reasons I don't want to get into.  I can't move out right now for financial reasons, but am looking to get my own place as soon as I get back on my feet, which may be a year or more. I'm not interested in a long-term relationships right now, but I also don't want one-night stands and all that. Currently there's no one in my immediate contacts that I'd like to heavily invest in a relationship with, but plenty for both sexual relations and other satisfying psychological things (such as fulfilling conversations, activities done together on occasion, and so forth.)
I'm not a virgin because I'm shy or afraid, but rather because I continually make excuses as to why I "can't" have sex, such as planning a major out-of-state move or trying to resolve my financial debts (leaving little money for dating), so since I've habituated the single-living lifestyle for all my life I'm not sure how to make the cross-over. Plus, my living conditions are unsuitable to bring another person in.
So how do I go from virgin nerd overly-focused on the single life to James Bond-stylin' nerd focused on life AND gettin' it on?
– John
Sponsor: Kasidie
Get a free 90 day trial by signing up with the banner link!  Make sure to friend us on Kasidie (Erosophia) and check out our group: http://www.kasidie.com/communities/Erosophia
Sex Tips: Enthusiasm
There are few qualities relating to sex that are as attractive as enthusiasm.
Tonight's Topic: Sex Work and Erotic Dancing
Both Joia and Devin have worked as erotic dancers before and we talk about their experiences and whether such work can be a moral choice for a person.
Support the Podcast
You can support the show by making a donation via PayPal (see bar to the right) or Amazon Payment (or any other payment method you might want, just get in touch with us).  You can also use Erosophia's referral link to Amazon to buy things.  You can sign up for Kasidie, the best lifestyle site on the web.  Or you can tell your friends and spread the word about the podcast on Facebook and Twitter.
If you want to advertise on the Erosophia Podcast, please contact us at Jason(at)JasonStotts.com or on twitter via @ErosPod.
Connect with us on the web:
Facebook: www.facebook.com/ErosophiaPodcast
Kasidie: http://www.kasidie.com/communities/Erosophia
Questions for Us?
Jason(at)JasonStotts.com
William(at)JasonStotts.com
Joia(at)JasonStotts.com
Devin(at)JasonStotts.com
https://www.facebook.com/ErosophiaPodcast
@ErosPod
Subscribe to the Podcast
You can subscribe via iTunes or RSS.
A special thanks to Jennifer Snow for editing today's podcast!